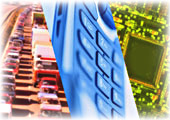 General
The thermal denaturation generated when laser light is irradiated on the surface of a workpiece enables the processing of a wide range of materials including metals, semi-conductors, resins and ceramics. Laser has many merits including the enabling of non-contact, elaborate, detailed and indelible marking, being a dry-process and flexible, and is advantageous in speeding and automating the manufacturing process.
Laser Trimming machine
High precision, high speed trimming
There are two line-ups: the "function trimming machine" that runs while the TCXO and VCO are being operated in real time; and the "chip resistor trimming machine" for stand-alone microchip resistors. Through the latest designs, both enable a degree of precision and speed that is outstanding in the industry.

Laser Trimmer
SL432R
Remarks : 6W
Uses : Thick film integrated circuits, hybrid integrated circuits, functional part uses
Pulsed YAG laser welder
Simple, high quality metal processing
The high speed digital control which employs a unique DSP enables speedy, very stable, high grade welding and cutting. It comes with various options including a LCD touch screen panel allowing simple operations, interactive software, an enhanced energy control function which makes high grade welding a reality and network monitoring. It is a user friendly device.

Laser welder
M801C/CH
Remarks : 50W, 80W pluse
Uses : Motors, battery tab fitting, CCFL back lights, sheet metal welding & optical modules

Laser welder
M802E
Remarks : 200W pulse
Uses : Battery seal welding, automotive components & electrical wiring, plate steel welding & cutting

Laser welder
M803E
Remarks : 300W pulse
Uses : Battery sealing welding, automotive components & electrical wiring, plate steel welding & cutting

Laser welder
M806E
Remarks : 600W pulse
Uses : Battery sealing welding, automotive components & electrical wiring, plate steel welding & cutting