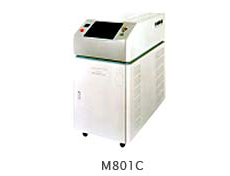 LASERSERVER®
M801C/M801CH
These Laserservers are low output pulse lasers that suit the welding of small-scale/precision metal components. While they are compact, they are packed with advanced features you would expect from deluxe models.
In the sample processing order, please describe following information.
The LCD touch screen panel allowing simple operations, the interactive software and the various energy control functions all combine to control heat warping and minimize welding defects.
Choose according to use
Two types: The M801C (50W) and the M801CH (80W). The Laserservers come with various options luding an optical resolution system, power feedback and network monitoring making them user friendly units.
Applications
Small-scale motor bearings
Battery tab fitting
CCFL back-lights
Sheet metal welding
optical module
Processing example
MR head for HDD

Precision processing
of MR head
component of HDD.